Manavgat River and Waterfall is a popular summertime destination.  Near the waterfall, shaded tea gardens and cafes provide pleasant resting places and somewhere to dip your feet in the cool water.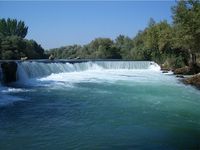 The Manavgat River rises in the Taurus Mountains  It flows south over conglomerated strata for about 90 kilometres, over Manavgat Waterfall, though the coastal plain and into the Mediterranean Sea. There are many caves in the river watershed area, the most interesting being the Altınbeşik cave.
Manavgat Waterfall, on the Manavgat River, is near the town of Side, 3 kilometres north of the town of Manavgat.  The white, foaming water of the Manavgat Waterfall flows powerfully over the rocks. Near the waterfall are shaded tea gardens and cafes, providing pleasant resting places and somewhere to dip your feet in the water.
The Oymapınar Dam is a 185 metre high arch dam, with a capacity of 300 million cubic metres.  It was built on the Manavgat river in 1984, to generate hydroelectric power.  It is located 12 kilometres to the north of the Manavgat Waterfall.  The Manavgat Dam is down river from the Oymapınar Dam.  Either or both of these dams can be visited as part of an excursion to Manavgat River and/or Manavgat Waterfall.
Key Facts
Manavgat Waterfall is found 63 km from Alanya, off the main Alanya-Antalya highway.

Some full day boat trips from Alanya Harbour visit Manavgat during the tourist season.

Local boats go up the Manavgat River, from near the sea, to the Manavgat Waterfall. 


Shorex: full day; half day; easily combined with other attractions to the west of Alanya (especially 12).