20. Sapadere Canyon
Sapadere offers a cool and refreshing walk through a spectacular canyon and the opportunity to swim in ice cold meltwater.  Restaurants offer traditional local food.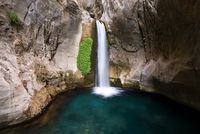 Key Facts
Sapadere Canyon is located 50 km from Alanya, on the east side.

The walk up the canyon, along a good walkway, passes gushing waterfalls.  It is not difficult, but is not  suitable for those with walking difficulties.

The spectacular vista at the top of the canyon is worth a little effort.

Restaurants at the canyon, and in the nearby Sapadere village, offer traditional local food and fresh trout.

Admission: there is a charge for admission to the canyon.
Shorex: half day, combines well with 19.